Air Conditioning, Heating, Plumbing & Electrical Near Lexington, SC
Serving Homes & Businesses Since 2008!
Financing is Available! — Learn More >>
Schedule Now
Huge thanks to Brian for completing a quality repair on short notice, and preparing a detailed estimate that helped me to make some tough decisions.
Christopher Byrd
23:23 20 Jun 22
Jared and Justin came to diagnos a natural gas issue I was having with our fire place. First, the diagnosis was free due to other electrical and AC work we have received in the recent past. Second, these gentlemen were very professional and polite. They quickly realized it was something they could fix on the spot, fixed it, and walked me through what was wrong and how to maintain my unit going forward. Very pleasant to deal with and genuinely cared. I have had nothing but pleasant and professional experiences with this company. Appears they really want long term customers.
We've used this Company several times and have been most pleased with the service and the people.We recently had a new Kitchen faucet and a new toilet installed (Jarred) and just had some drywall issues repaired as well(James Jordan) and are very happy with the quality of work,their expertise and friendly workman.We would highly recommend them for all your home repairs !
richard hare
16:17 16 Jun 22
SHAWN FOXWORTH was my technician this week. He came to do maintenance on an aging system which had not been cleaned and serviced for 2-3 years. Shawn was professional from beginning to end, explicit in his explanations of what he was going to do, and very knowledgeable. He was friendly, personable, expressive, and articulate. He worked in the heat for about two hours. I will use Carolina Conditions for all our repairs and maintenance, and to replace our unit in the future when it becomes necessary. Thank you, Shawn, for an outstanding job!
David Fisher
12:06 15 Jun 22
I contacted Carolina Conditions on Monday, June 13th because I was getting an error code on my dryer that notified me that there was a blockage in the dryer vent. Carolina Conditions got me scheduled for the next day...YAYQuon, was my technician. He arrived on time and was very professional. He asked me several questions about my dilemma and he began is mission to fix the problem.Well, the problem was, there was a bird's nest in my dryer vent! OMG! In addition to quite a bit of dryer lint too. The dryer vent was on the third floor and Quon got up on that ladder as if he was Superman and got that bird nest and all of that lint out of that dryer vent.Quon, completed his mission and cleaned up all of the aftermath.Quon showed me before and after pictures and the difference was remarkable.Thank you Quon, for doing a meticulous job on the dryer vent. I will now be calling Carolina Conditions for other services I may need.Oh and yes, I will be referring others as well...Great Job Quon...Carolina Conditions is blessed to have you...Keep up the great work!
Making Your Family's Comfort Our Business


Since 2008
Whatever your home comfort needs, we are happy to help! With experienced HVAC techs, certified electricians and master plumbers on our team, you can rest easy knowing you are getting the best care for your home out there!
South Carolina Comfort and Value
Carolina Conditions

Savings Club
31-Point Inspection
Our technicians will take their time to thoroughly check your unit from top to bottom.
Regular Maintenance
With routine tune-up services, your system will run better and more efficiently all year long.
VIP Priority Service
As a Member, you are our top priority. If anything comes up, we are there for you pronto.
30% Off Service Call Charge
Receive a discount of 30% off your service call charge when you join our savings club.
Looking For A Promising Highly-Skilled Career?
Apply Today!
We are currently hiring qualified HVAC Technicians, Electricians and Plumbers! Come join the Carolina Conditions Family and enjoy working with other enthusiastic professionals where you receive on the job training as well as many other benefits.
Apply Today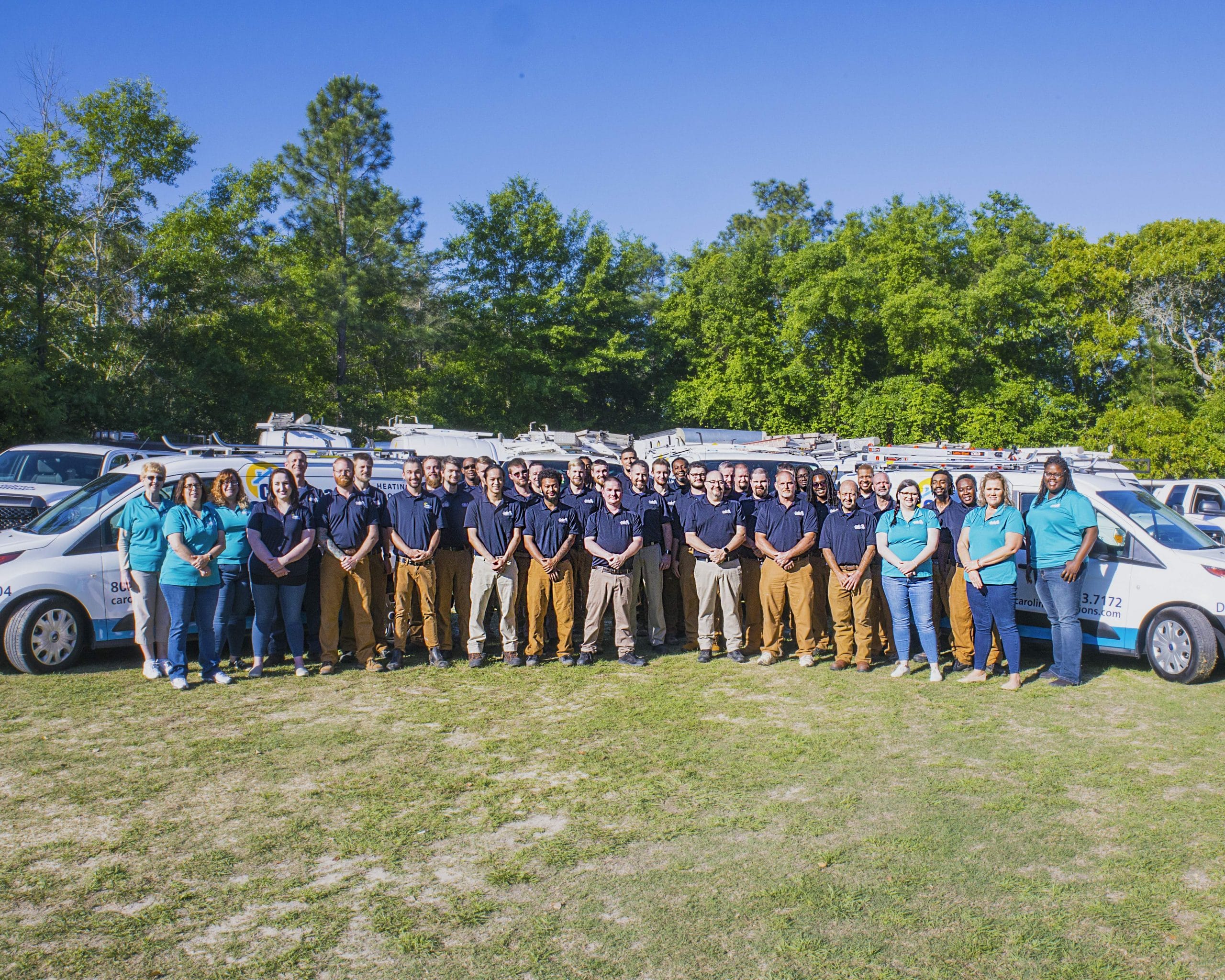 100%
Company Core Values Embraced
Our 5 Core Values are the cornerstone of our business, all centered around creating long-term relationships with every customer, every time.

13+
Years Serving Our Community
As a locally owned and operated business right here in Lexington, SC, we understand the importance of community and serving our neighbors.

100%
Doing Things Right The First Time
We believe in earning your trust so that we're your first call. We do this by offering exceptional service and honest work with every job we do.

20000+
Happy South Carolinian Customers
With good service comes growth! We feel very proud to be able to serve more clients across the Midlands.