Air Conditioning, Heating, Plumbing & Electrical Near Lexington, SC
Serving Homes & Businesses Since 2008!
Financing is Available! — Learn More >>
Schedule Now
Stepped out of my shower into an inch of water on the bathroom floor.. lots of fun.Carolina Conditions was recommended to me by a friend, and they were not wrong about the quality of service and quick response.The main line clog that I had was cleared that day despite their being booked until the next afternoon. I will be using them again if a plumbing need were to ever arise.
Derek Allison
02:48 17 Jan 22
I usually don't give reviews but after working with this company I must do one. My reason being is that I used this company last year! to run my mobile electricity so it can pass inspection after a year of the work I was finally ready to do my inspection yes after year for some unfortunate reasons I was not able to do it sooner anyhow when I called in to do the inspection it did not pass do to some work from a previous employee that was not done correctly so I immediately called them and not only they took care of the job they went way and beyond to make sure all of wires piping and excavating was done correctly they stood way past there regular hours to make sure I was set and good to go for inspection well I was more then happy when the inspection passed so I will highly recommend this company since they have integrity and back up there work even after a year. awesomeness work in book.
Angel Vega
00:59 16 Jan 22
Our plumber, Jason, came out to fix our clogged line. He was on time, kept us informed of everything he was doing, and finished quickly and efficiently! Definitely recommend!
Eric Hollingsworth
17:44 15 Jan 22
I woke this morning to hovering between 58-60 degree temps inside the house. After contacting the company, they arranged for Jeffrey to come out this morning which was a relief because I feared being on a mile long waitlist. Jeffrey was professional, listened to my concerns, and promptly addressed the biggest issues. After about 30 minutes, the outdoor pipes to the unit began thawing and the indoor temperature began rising which was a huge relief! Having things like this happen is a normal issue that comes with home ownership but it helps when the customer service representative and the service techs are polite, responsive, and genuinely concerned about rectifying the issue. I wasn't certain if I'd secure a happy outcome today or if I'd be checking into a hotel but I'm pleased to say that my home is pretty warm so huge thanks to Jeffrey!
Stephanie McCummings
19:04 14 Jan 22
Forrest came out to clean our dryer vent system. Called to say he was on his way. Very friendly and knowledgeable. Overall excellent customer service
Roberta Cometti
16:41 13 Jan 22
Making Your Family's Comfort Our Business


Since 2008
Whatever your home comfort needs, we are happy to help! With experienced HVAC techs, certified electricians and master plumbers on our team, you can rest easy knowing you are getting the best care for your home out there!
South Carolina Comfort and Value
Carolina Conditions

Savings Club
31-Point Inspection
Our technicians will take their time to thoroughly check your unit from top to bottom.
Regular Maintenance
With routine tune-up services, your system will run better and more efficiently all year long.
VIP Priority Service
As a Member, you are our top priority. If anything comes up, we are there for you pronto.
30% Off Service Call Charge
Receive a discount of 30% off your service call charge when you join our savings club.
Looking For A Promising Highly-Skilled Career?
Apply Today!
We are currently hiring qualified HVAC Technicians, Electricians and Plumbers! Come join the Carolina Conditions Family and enjoy working with other enthusiastic professionals where you receive on the job training as well as many other benefits.
Apply Today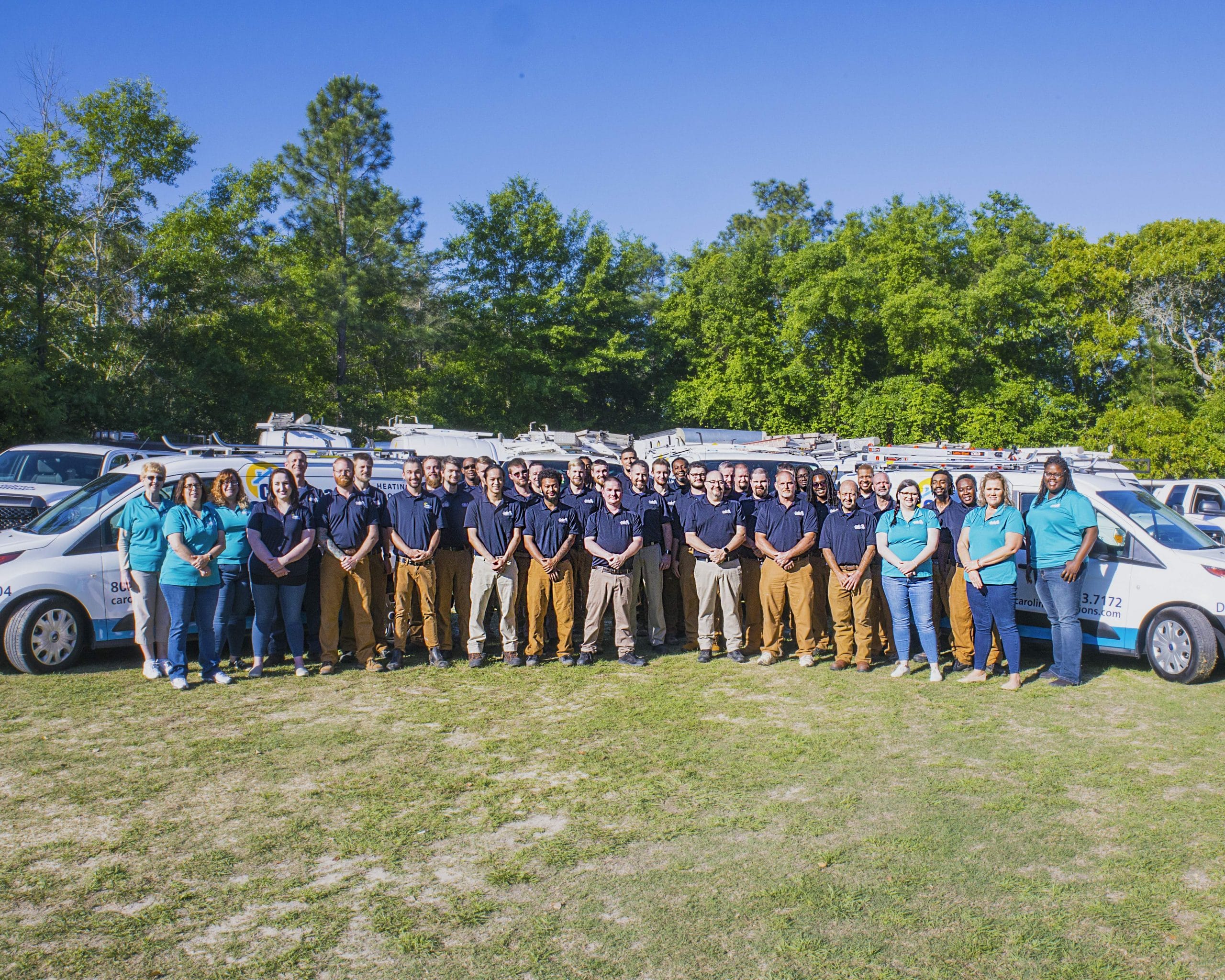 100%
Company Core Values Embraced
Our 5 Core Values are the cornerstone of our business, all centered around creating long-term relationships with every customer, every time.

13+
Years Serving Our Community
As a locally owned and operated business right here in Lexington, SC, we understand the importance of community and serving our neighbors.

100%
Doing Things Right The First Time
We believe in earning your trust so that we're your first call. We do this by offering exceptional service and honest work with every job we do.

20000+
Happy South Carolinian Customers
With good service comes growth! We feel very proud to be able to serve more clients across the Midlands.